Due to COVID 19 restrictions we are pleased to announce that our Women of Folkways Concert will be an online virtual concert.
Concert: Women of Folkways
Featuring Dana Wylie, Maria Dunn, Linda McRae, Terry Morrison, Rachel Eddy and Shawna Caspi
Presented in partnership with the Northern Lights Folk Club
Saturday, February 20, 2021 at 7:00 pm to 8:00 pm Mountain Time
---
Sound Studies Institute Online Lecture – The History of the Women of Folkways Panel Discussion
Featuring Maria Dunn, Dana Wylie and Peter North
Wednesday, February 24, 2021 at 7:00 pm to 8:00 pm Mountain Time
Join Zoom: https://ualberta-ca.zoom.us/j/93760006642?pwd=ZGphTDRDRkgwWVZycDVtU1dRM05Rdz09
Live stream on the Sound Studies website: soundstudies.ualberta.ca/livestream/
After twelve years of hosting the annual Women of Folkways Winter Roots concert, there are bound to be some stories to tell! Join us for a discussion of the history of Women of Folkways, from its origins with the University of Alberta's Asch Collection and folkwaysAlive! to its current incarnation as hosted by the Sound Studies Institute and the Northern Lights Folk Club.
Joining us on the panel are former CKUA radio announcer and music director Peter North, who was one of the producers of the very first Women of Folkways concerts; Maria Dunn, who as a musician has "been involved with Women of Folkways longer than anyone"; and musician Dana Wylie, a long-time performer and organizer of the concert.
Maria Dunn, is a true preserver of the spirit of folk music, twice Juno-nominated Maria Dunn is often compared to Woody Guthrie for her keen social awareness and unvarnished melodic songs about ordinary people. Her new album Joyful Banner Blazing (2021) celebrates resilience, grace, gratitude, solidarity, joy and the love that fires our actions to make the world a better place.
For the past forty years Peter North has been involved on the local, regional and national roots music scene as journalist in print, radio and television and as a promoter of live music on a number of fronts. Peter also hosted the popular CKUA Radio program Dead Ends & Detours for 15 years, and was music director at the network for almost a decade. His efforts have been recognized nationally: he was named Music Journalist of the Year in 1996 at the annual Canadian Music Industry Awards, and Media Person of the Year six years in a row, awarded by the Western Canadian Music Association. As a concert producer North has presented shows going all the way back to the late seventies. For five years, he co-produced the Winter Roots Festival with FolkwaysAlive! at the University of Alberta.
https://peternorthmusic.com/home
Dana Wylie, is a musician and theatre artist whose original work is rootsy, spacious, thought-provoking, and essentially joyful. Her fifth and latest album, The Earth That You're Made Of, garnered her a Canadian Folk Music Award nomination for Contemporary Singer of the Year, and her work in theatre – as an actor, singer, writer, and musical director – has earned her four Sterling Award nominations. She is also the immeasurably proud and generally overwhelmed mother of eight-year-old Anna and two-year-old Grayson. Her sixth album, How Much Muscle, will be released sometime amid the craziness of 2021, and her theatrical song-cycle Makings of a Voice will debut (digitally!) at the Skirts Afire festival in March.
https://danawylie.net/home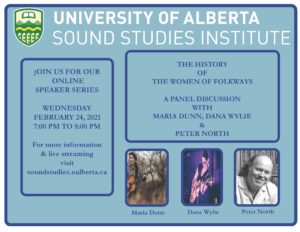 ---
Our Partners
Special thanks to the following organizations for their coordination and support of this year's festival: