---
A beloved tradition of the annual Winter Roots Roundup, the Women of Folkways concert is a celebration by women of women in the Folkways Records catalogue. This year we bring together Rachel Eddy, Rachel Reis, and Dana Wylie. In a collaborative singer-in-the-round concert, these talented musicians will explore and celebrate the music of Folkways by presenting new interpretations of traditional folk songs, as well as their original songs to expand the tradition.
This year's concert is a co-presentation with the Northern Lights Folk Club.
When: Saturday, February 10th,
Time: Show at 8:00 p.m., Doors at 7:30 p.m.
Where: Parkview Community Hall – 9135 146th Street
See Tickets for sales outlets and pricing.
---
Our 2018 Women of Folkways Artists
Rachel Eddy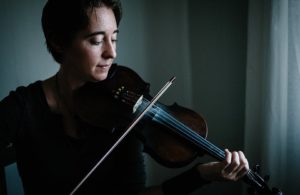 Rachel Eddy hails from West Virginia, where she grew up steeped in Appalachian music and dance. Rachel's multi-instrumental talents and soulful singing bring an incredibly powerful energy to the group.  In addition to her work with Ken and Brad, Rachel performs as a soloist and tours with The Early Mays. Rachel was born and raised in rural WV just south of Morgantown, where her musical family inspired her to play and sing as a little girl. She grew up listening to local fiddlers, her father among them, going to old-time festivals, and attending square dances. The old-time bug bit her early in life and Rachel now performs and teaches full-time on fiddle, banjo, guitar, mandolin and bass. She has recently relocated back to West Virginia after living the last 5 years in Stockholm. During that time, she invigorated the Swedish old-time scene, inspiring dozens of people to learn Appalachian music and dance. In addition to being a performer, Rachel is passionate about teaching. She has taught fiddle, banjo and guitar at the Augusta Heritage Center in Elkins WV, at Sore Fingers Summer school in the UK, and different various weekend workshops from the hills of West Virginia to Sweden, Denmark, Switzerland, Germany, London and Wales. Rachel's love of music comes from the heart and she loves every part of her job from performing, to educating dedicated students, and the electrifying charge of playing in jam sessions around the world!

Official Website: http://www.racheleddymusic.com/
---
Dana Wylie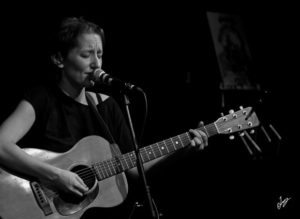 Dana Wylie is farm girl from Saskatchewan who has travelled the world in search of home. Her struggle to reconcile the wanderer with the bumpkin, mixed with her crystal clear voice and fluid finger-style guitar playing, has resulted in a unique musical language that effortlessly straddles country and city, folk and intellectual.
Wylie's search took her first to Edmonton in 1997, to study theatre. Her 2003 one-woman Fringe hit Tempo de Java seemed destined to lead her to a long and fruitful acting career, but she had decided two things by then – that what she really wanted to do was play music, and that she needed to get out and see a bit more of the world. Circumstance took her to Taiwan, where she was surprised to find a thriving expat music scene, and where for two years she played constantly – in jug bands, bluegrass bands, cover bands, jazz bands – before moving to England to form the Dana Wylie Band, which toured Britain and North America steadfastly for five years.
While overseas, Wylie developed a profound affinity for traditional folk music – sparked by her first hearing of the great Sandy Denny's version of 'Reynardine" – which catalyzed an evolution in her own music and a passion for the history and practice of music-making that drives her to this day – she is currently pursuing a Masters degree in music at the University of Alberta. In ten years of recording and performing, Wylie has achieved an artistic growth that most singer/songwriters don't experience in a lifetime, a growth that led Penguin Eggs magazine to state that she "stands out from the pack with the maturity of her musical vision."
Dana Wylie 'Penny Brown Penny' from Peter Seal on Vimeo.
Official Website: www.danawylie.bandzoogle.com