---
A beloved tradition of the annual Winter Roots Roundup, the Women of Folkways concert is a celebration by women of women in the Folkways Records catalogue. but this year due to COVID and no in person concerts  Sound Studies Institute and Northern Lights Folk Club are proud to present this year's Women of Folkways Winter Roots XII Concert on Saturday February 20, 2021 in an online concert format.
We are excited about the lineup of artists who will be performing, each of whom will cover music from the women of the Women of Folkways Catalogue. 
This year's concert is a again co-presentation with the Northern Lights Folk Club.
---
Our 2021 Women of Folkways Artists
---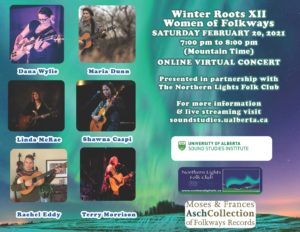 Our lineup includes:
Dana Wylie, is a musici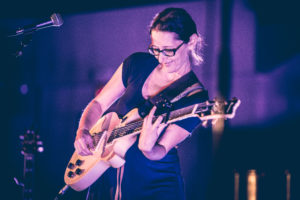 an and theatre artist whose original work is rootsy, spacious, thought-provoking, and essentially joyful. Her fifth and latest album, The Earth That You're Made Of, garnered her a Canadian Folk Music Award nomination for Contemporary Singer of the Year, and her work in theatre – as an actor, singer, writer, and musical director – has earned her four Sterling Award nominations. She is also the immeasurably proud and generally overwhelmed mother of eight-year-old Anna and two-year-old Grayson. Her sixth album, How Much Muscle, will be released sometime amid the craziness of 2021, and her theatrical song-cycle Makings of a Voice will debut (digitally!) at the Skirts Afire festival in March.

---
Maria Dunn, is a true preserver o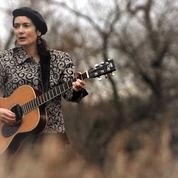 f the spirit of folk music, twice Juno-nominated Maria Dunn is often compared to Woody Guthrie for her keen social awareness and unvarnished melodic songs about ordinary people. Her new album Joyful Banner Blazing (2021) celebrates resilience, grace, gratitude, solidarity, joy and the love that fires our actions to make the world a better place.
---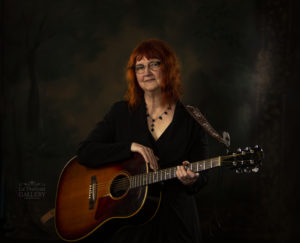 Linda McRae is a multi-instrumentalist/songwriter Linda McRae exudes an effortless passion and a love of what she does. This BC Hall of Fame Inductee and Boston Family Folk Chorale Songwriting winner also works with at risk youth and adults in her Express Yourself Writing Workshops presented at correctional facilities including New Folsom Prison.
---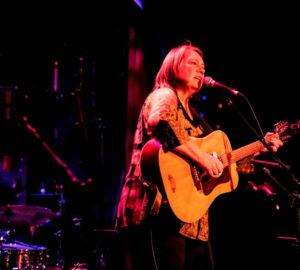 Terry Morrison is a singer/songwriter and is a long time member of the Canadian musical community. An accomplished guitar player, Morrison's unique sense of melody and phrasing create her own inimitable brand of contemporary roots music. Delivered in a rich sensual voice, her songs reflect a compassionate and innate intelligence.  Terry has 5 CD's of original music to her credit.
https://terrymorrison.bandcamp.com/
---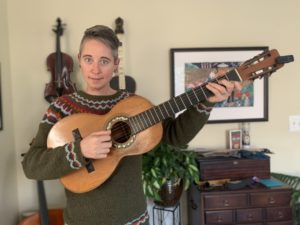 Rachel Eddy is a native of West Virginia who grew up in a musical family steeped in the traditions of Appalachian music and dance. Now based in Washington, D.C., they are known throughout the world as both a dynamic, emotionally powerful performer and an engaging, thoughtful teacher. Rachel's soulful singing and multi-instrumental finesse—including fiddle, banjo, guitar, and mandolin—may be heard on numerous solo and collaborative recordings as well as at dances and jam sessions, where Rachel is dedicated to fostering community and sharing a love of music with others.
http://www.racheleddymusic.com/
---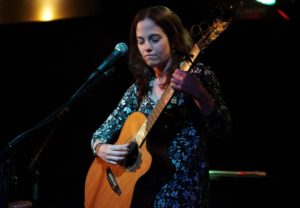 Shawna Caspi is Toronto-based singer-songwriter Shawna Caspi performs solo but there's a whole band under her fingertips. She believes in poetry and the power of one person and one instrument, accompanying herself with a remarkable lyrical fingerpicking guitar style. Her performances capture audiences with grace and intimacy, whether the setting is a living room, a festival stage, the bar car of a passenger train, or this new digital space we are all inhabiting. Shawna is also a visual artist, portraying the landscapes of her travels on canvases, painting one-of-a-kind works of art inspired by the rich scenery of past tours, and creating abstract artwork to accompany her music. Shawna is currently working on a new album and visual art project slated for release in fall 2021.