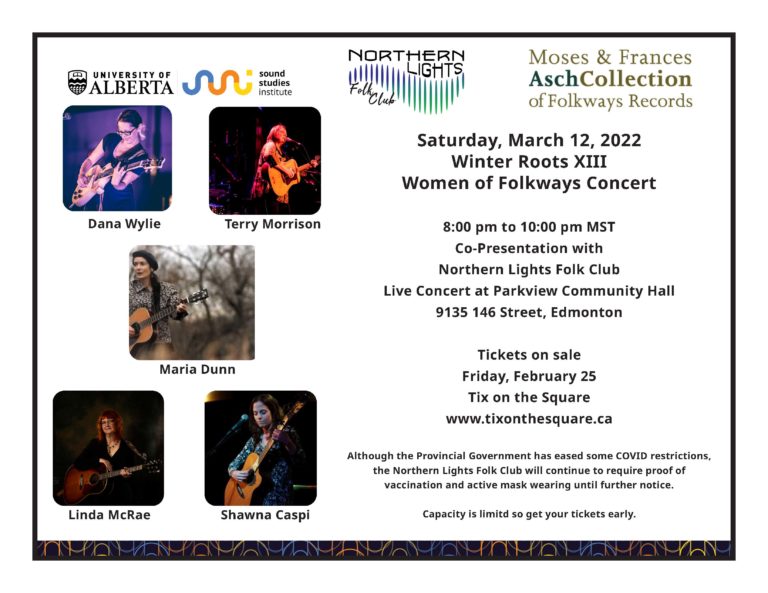 ---
A beloved tradition of the annual Winter Roots Roundup, the Women of Folkways concert is a celebration by women of women in the Folkways Records catalogue, and this year we are excited to be back in an in person live concert format.
We are excited about the lineup of artists who will be performing, each of whom will cover music from the women of the Women of Folkways Catalogue. 
This year's concert is a again co-presentation with the Northern Lights Folk Club.
When: Saturday, March 12, 2021
Time: Doors at 7pm / Show at 8:00 pm

Where: Parkview Community Hall, 9135 146 Street, NW Edmonton
Our 2022 Women of Folkways Artists
Our lineup includes: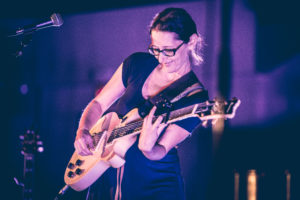 Dana Wylie is a singer of rare gift and a dedicated crafter of deeply felt and sharply observed songs. Praised for being as dexterous with words as she is with her guitar, piano and remarkably powerful voice, she writes with equal parts craft and passion; Penguin Eggs magazine once called her the only artist about whom they have "felt comfortable comparing favourably to Joni Mitchell in the scope of her talent EVER."
Cutting short a pomising career in the Canadian theatre scene at the age of 23, Dana decided musicians were her tribe. She moved to the unlikely locale of Taiwan, where she cut her teeth playing with jug bands, blues bands, bluegrass bands and cover bands, singing jazz in hotel lounges, and doing some of the most bizarre corporate gigs you could possibly imagine. Moving to the UK in 2005, she formed her own band and toured steadfastly for five years, releasing three critically-praised albums in the process. She then landed back in Canada in 2010 to pursue graduate studies in musicology at the University of Alberta. She also returned to her theatrical roots in 2015, producing, writing, performing the critically-acclaimed and Sterling Award-nominated Fringe hit The Second Line: Two Ladies and the Old School Blues.
Dana's fifth record, The Earth That You're Made Of, released in October 2017, earned her a Canadian Folk Music Award nomination for Contemporary Singer of the Year, and was described by journalist, broadcaster, and festival director Peter North as "one of the finest contemporary roots recordings to have ever been produced in Alberta, period." Her sixth offering, How Much Muscle, is secretly available even though it hasn't officially been released yet, and her theatrical song-cycle Makings of a Voice debuted online in March 2021, and in the actual flesh at the Arden Theatre in October 2021, both produced by the SkirtsAfire Festival.
---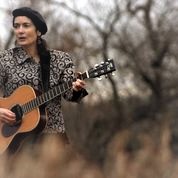 A true preserver of the spirit of folk music, twice Juno-nominated Maria Dunn is often compared to Woody Guthrie for her keen social awareness and unvarnished melodic songs about ordinary people. Topping many "Best of 2021" folk radio and journalist lists in Canada and beyond, Maria's newest album Joyful Banner Blazing celebrates resilience, grace, gratitude, solidarity, joy and the love that fires our actions to make the world a better place.
---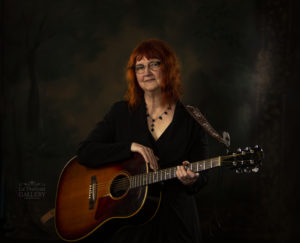 Linda McRae is a multi-instrumentalist/songwriter. Linda McRae exudes an effortless passion and a love of what she does. This BC Hall of Fame Inductee and Boston Family Folk Chorale Songwriting winner also works with at risk youth and adults in her Express Yourself Writing Workshops presented at correctional facilities including New Folsom Prison.
---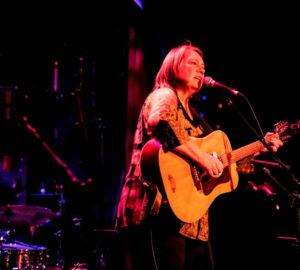 Metis Singer/Songwriter Terry Morrison is a long-time member of the Canadian musical community. An accomplished guitar player, Morrison's unique sense of melody and phrasing create her own inimitable brand of contemporary roots music. Delivered in a rich sensual voice, her songs reflect a compassionate and innate intelligence.
Terry has performed at many Canadian folk fests and toured throughout North America. She has 6 CD's of original music to her credit and is featured on a number of compilations including the Smithsonian Folkways recording 'Wild Roses Northern Lights', a collection of songs by Alberta Songwriters.
She is a member of country honky tonk outfit, 'The Pleading Hearts' and performs regularly with her musical partner John Gorham
https://terrymorrison.bandcamp.com/
---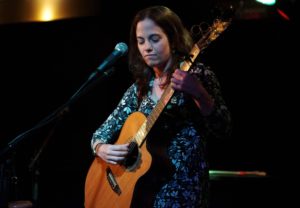 Toronto-based singer-songwriter Shawna Caspi takes her time crafting lyrics that are poetic and meaningful, often using unusual rhymes and surprising turns of phrase. She spent years on the road playing solo shows at festivals and in concert halls, train cars, backyards, and living rooms, supporting her warm, clear voice with intricate fingerstyle guitar accompaniment, and drawing energy from shifting landscapes and long drives through Canada and the United States. After taking a break from the road to rest, reflect, and write, Shawna returns with her fifth album, Hurricane Coming, a collection of raw, deeply personal songs set against a backdrop of colourful cinematic soundscapes. Shawna also created a series of abstract paintings inspired by the songs on the album, seamlessly combining her work as a musician and visual artist.