Join us for an informal talk and performance by award-winning Platinum Recording Artist, songwriter, & multiinstrumentalist Linda McRae. Know for her work with a variety of musical outfits, including Spirit of the West, McRae writes, sings and performs on guitar, banjo, and accordian.
Ms. McRae will discuss arts advocacy, including her work as a healing workshop facilitator in schools, correctional facilities, detox centres, and women's shelters throughout North America. Later in the week, Linda will also lead healing songwriting workshops with clients of the Bissell Centre and the Women's Emergency Accommodation Centre, and perform at the annual Women of Folkways Concert.
This event is free and open to the public – all are welcome!
When: Wednesday, February 1st, 2017
Time: 12:00 p.m. – 1:00 p.m.
Where: 3-47 Old Arts/Convocation Hall Building, UAlberta North Campus
---
About Linda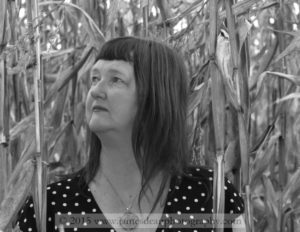 Though perhaps best known for her eight-year tenure as a member of the platinum-selling band Spirit of the West, recent BC Entertainment Hall of Fame Inductee Linda McRae had already raised a daughter and performed for more than ten years with west coast punk and roots outfits before joining Spirit.
Performing on banjo, guitar and accordion, her warm and world-weary voice, unforgettable melodies and thought-provoking lyrics make McRae a captivating and sought-after artist. Promoter Fernando Pinto says, "One song breaks your heart, the next one puts it back together."
In 2006, McRae found love and much more with James Whitmire, a retired American rancher who had recently discovered his voice as a poet. Whitmire became her manager, collaborator, and constant source of moral support while she's out on the road. A recovered addict, who's been clean for more than 28 years, Whitmire has life experience that many incarcerated individuals and at-risk youth relate to, and that has helped the couple build trusting connections through their therapeutic Express Yourself Writing Workshops, currently being presented in detox centres, alternative schools, and youth and adult correctional facilities across North America. McRae's new, Steve Dawson-produced album, Shadow Trails, is inspired by that work.