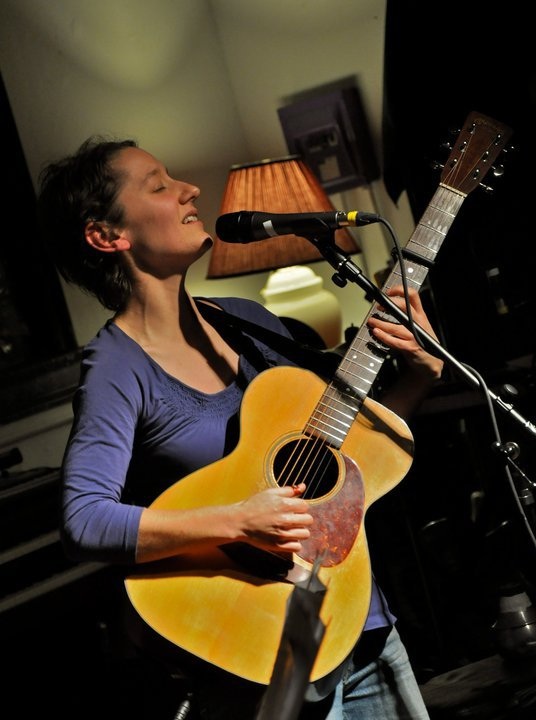 "Wylie shows the intuitive grace, smart, lyrical economy, and the ability to find insights in everything or anything that you expect of a mature songwriter." – Roger Levesque, Edmonton Journal

"[Dana Wylie] stands out from the pack with the maturity of her musical vision, which combines elements of folk, pop, and jazz…she's the only artist this critic has felt comfortable comparing favourably to Joni Mitchell in the scope of her talent EVER." – Barry Hammond, Penguin Eggs Magazine
Dana Wylie is farm girl from Saskatchewan who has travelled the world in search of home. Her struggle to reconcile the wanderer with the bumpkin, mixed with her crystal clear voice and fluid finger-style guitar playing, has resulted in a unique musical language that effortlessly straddles country and city, folk and intellectual. Her latest album, The Sea and the Sky, represents a deepening and a maturation of this language.
Wylie's search took her first to Edmonton in 1997, to study theatre. Her 2003 one-woman Fringe hit Tempo de Java seemed destined to lead her to a long and fruitful acting career, but she had decided two things by then – that what she really wanted to do was play music, and that she needed to get out and see a bit more of the world. Circumstance took her to Taiwan, where she was surprised to find a thriving expat music scene, and where for two years she played constantly – in jug bands, bluegrass bands, cover bands, jazz bands – before moving to England to form the Dana Wylie Band with singer and multi-instrumentalist Jez Hellard and bassist Nye Parsons, to concentrate exclusively on original material.
The Dana Wylie Band toured steadfastly for five years, and released three critically acclaimed albums, the last of which (Something's Going to Happen Here) was #25 in CKUA's Top 100 Albums chart for 2010. It was during this period that Wylie first heard Sandy Denny sing "Reynardine" and developed a profound affinity for traditional folk music, one that sparked an evolution in her own music and a passion for the history and practice of music-making that drives her to this day – she is currently pursuing a Masters degree in ethnomusicology at the University of Alberta. In addition to this, she is working on her fourth album and plays regularly with her new band, The Two-Bob Orchestra. In the last ten years, Wylie has achieved an artistic growth that most singer/songwriters don't experience in a lifetime, a growth that led Penguin Eggs magazine to state that she "stands out from the pack with the maturity of her musical vision."