Join us at Sound Studies Initiative for a special event with Rachel Eddy before her performance in the Winter Roots Roundup IX: Women of Folkways concert. At this event Rachel will be speaking about the history of the old-time banjo tradition while performing some songs in an intimate setting.
When: Friday, February 9th, 2018
Time: 1:00 p.m.
Where: Sound Studies Initiative, 3-47 Old Arts Building, UAlberta North Campus
Free event, all welcome!
---
Rachel Eddy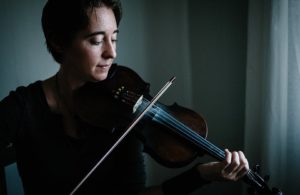 Rachel Eddy hails from West Virginia, where she grew up steeped in Appalachian music and dance. Rachel's multi-instrumental talents and soulful singing bring an incredibly powerful energy to the group.  In addition to her work with Ken and Brad, Rachel performs as a soloist and tours with The Early Mays. Rachel was born and raised in rural WV just south of Morgantown, where her musical family inspired her to play and sing as a little girl. She grew up listening to local fiddlers, her father among them, going to old-time festivals, and attending square dances. The old-time bug bit her early in life and Rachel now performs and teaches full-time on fiddle, banjo, guitar, mandolin and bass. She has recently relocated back to West Virginia after living the last 5 years in Stockholm. During that time, she invigorated the Swedish old-time scene, inspiring dozens of people to learn Appalachian music and dance. In addition to being a performer, Rachel is passionate about teaching. She has taught fiddle, banjo and guitar at the Augusta Heritage Center in Elkins WV, at Sore Fingers Summer school in the UK, and different various weekend workshops from the hills of West Virginia to Sweden, Denmark, Switzerland, Germany, London and Wales. Rachel's love of music comes from the heart and she loves every part of her job from performing, to educating dedicated students, and the electrifying charge of playing in jam sessions around the world!

Official Website: http://www.racheleddymusic.com/